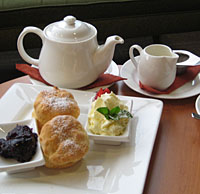 Complementary refreshments are available throughout your stay please ask a member of staff for anything you require.
Afternoon Tea Menu
Smoked Salmon & Cucumber Served on Granary Bread
Home Cooked Ham on Crusty White
Aunty Jan's Home Baked Scones with Cream & Strawberry Preserve
Sumptuous Chocolate Cake, Carrot & Banana Cake and Welsh Cakes
We hope you have a wonderfully relaxing day with us, remember to tell all your friends that we are here!
Please note our maximum number of covers is six in one sitting, for a larger group we can offer a buffet lunch.
Buffet £10pp min 6 people; Afternoon Tea £15pp  and 2 course lunch £15pp
Please call for further details.